Tips for an Unforgettable Ugly Christmas Sweater Party
November 13, 2022

Letitia Campbell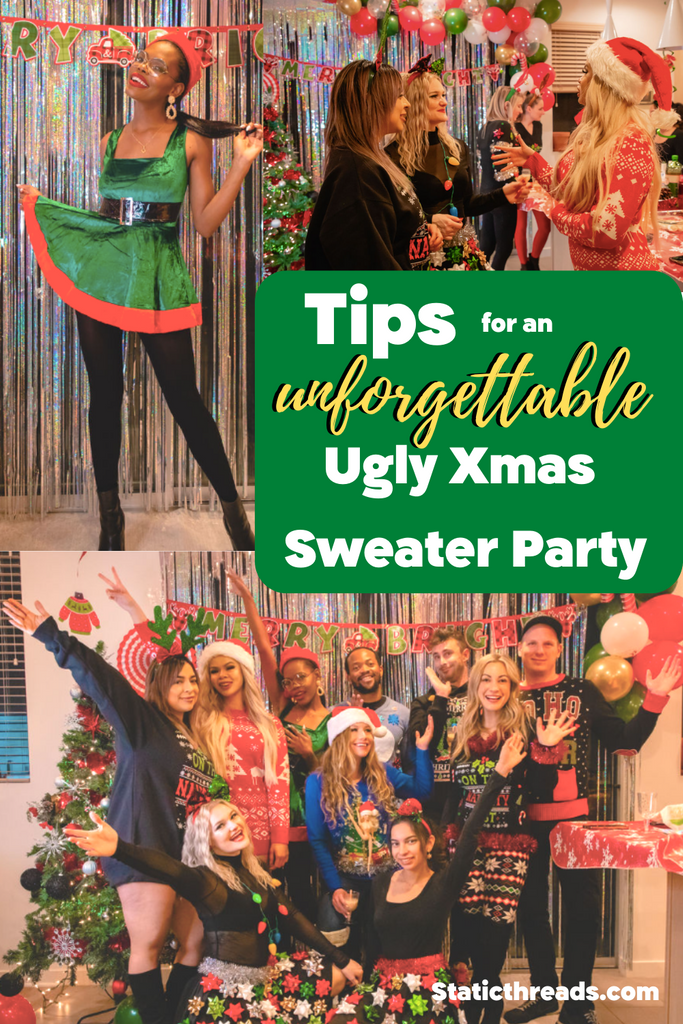 What better way to ring in the new year than an Ugly Christmas Sweater Party?! 
Happy Holidays friends! My name is Tia Lynn and I am a Christmas Season Expert! December has been my favorite month of the year since I was a little girl.  There is something about chilly evenings perfect for hot cocoa and nights filled with beautiful lights that make this time of year so magical. 
To add to the holiday magic, I LOVE to host a Christmas party for all my friends and family. After years of experience, I'm sharing all the essentials to YOU so you can also throw a successful and memorable Xmas party! 
So let's go over some of the major topics that will be the key to a successful party. First we'll start off with the the things to do in advanced for the party, then what to do on the day of the celebration.
The Reason for the Season: Ugly Christmas Sweaters!
Now this is the most crucial part. Send out an invitation for your party at least 2 weeks in advance, but a month is ideal so all your guests have time to DIY or buy their ugly Christmas sweaters. Let them know that it will be a competition and the categories so they can plan accordingly. Categories I've done in the past are:
Best Ugly Christmas Sweater

Naughtiest Ugly Christmas Sweater

Funniest Ugly Christmas Sweater

Best Couples Ugly Christmas Sweater
This gives your guests creative direction. Host a cat walk for your guests before you cast your votes so everyone can holiday serve looks!
 
Need ideas on what to wear? I've got you covered! Check out these cute outfits and accessories:
Here is a great couples Christmas sweater set: Where my Ho's at for the gentleman and Santa's Favorite Ho for the lady. These matching sweaters go so cute together and everyone will know who you came with!
To really make the holiday sweater pop, pair them with the gorgeous Metallic Leggings that shine brighter than the star on top of the Christmas tree! I love these leggings because they make my ass look great, and I'm sure they'll make yours stand out too! Available in rose gold, silver and dark charcoal.
Here's something that no one else will have: Our Original Bow Skirts! These one of a kind pieces are handmade, with the front completely covered in bows and garland, but none on the back so you and sit down comfortably. Pair it with a On the Naughty List Sweater, available in mens or womens. Get the standard printed sweater or go all out with the 3D Garland!
Don't forget to accessorize! Go with these cute stud Bow Earrings or this LED Christmas Bulb Light Up Necklace to light up the room.
Feature the Fits: Photo Booth Set-Up and Backdrop for Pictures
You'll want to keep these Xmas memories forever- do it by setting up a photo booth! There are two different methods I've done in the past. First is an easy dollar store DIY. All you'll need is a cute backdrop, you could use wrapping paper or tinsel, a Christmas-y banner, and some festive decor. Arrange it all on a wall in a wide, open space to allow room for group pics.
Don't forget to add a bright ring light for the best pictures and easy way to set a timer. 
If you want to go the easier route, check out this Blow up Christmas Photo Frame that comes with a bunch of cute photo props. Make your guests hold up the frame so it looks like a jolly Christmas card! 
On the Day of the Event: Sweets!
I love to make super unique recipes, check out these White Chocolate Chip Candy Cane Cookies! These delicious treats are made from scratch and are a crowd pleaser. Check out the recipe here.
Something to Sip On...
A good idea for beverages is one alcoholic option and one non-alcoholic. For the adults, I love this Winter Margarita: its tart, boozy and sweet! Who said margaritas are just for summer?
For the sober minded and/or kids, try out this Homemade Creamy Hot Chocolate. I know it's so easy to just get a packet of Swiss Miss and call it a day, but I promise your guests will tell the difference!
Now for the Fun Part: Games!
Who wants to play beer pong all the time? Its unoriginal, so spice it up with holiday specific games! Besides the classics like Secret Santa and White Elephant, here are two cute new ideas~
Check out this DIY Christmas Tree Punch Board Game! Simply get a poster board, cups, prizes, tissue paper, rubber bands and hot glue. Glue the cups to the board in a tree formation and stuff them with gift cards, cash, candies, small toys, whatever you desire! Then just rubber band some tissue paper squares to the opening and have your guests punch through the paper and claim their prize.
This next idea might not be the most environmentally friendly, but it definitely hypes up the party and is easy to do! The Plastic Wrap Gift Ball Game consists of plastic wrap, oven mitts and prizes. Start off by wrapping the grand prize first, so it is in the center of the ball. Then, continue to wrap, adding little prizes throughout the wrap. Once your ball is a bit smaller than a basketball, its ready to get destroyed! Give your guests a time limit and each turn they get, make sure they wear oven mitts to add to the difficulty of the game.
And there you have it! All the ingredients you need to make the perfect Ugly Christmas Sweater Party. I hope this gives you inspiration to host the most unforgettable holiday party.
NOW don't forget to have a way to vote for the best dressed Ugly Christmas Sweater and prizes for the winner!!! 
From my loved ones to yours: Merry Christmas!!! :-D