10 Best Ugly Christmas Sweaters
November 09, 2017

Letitia Campbell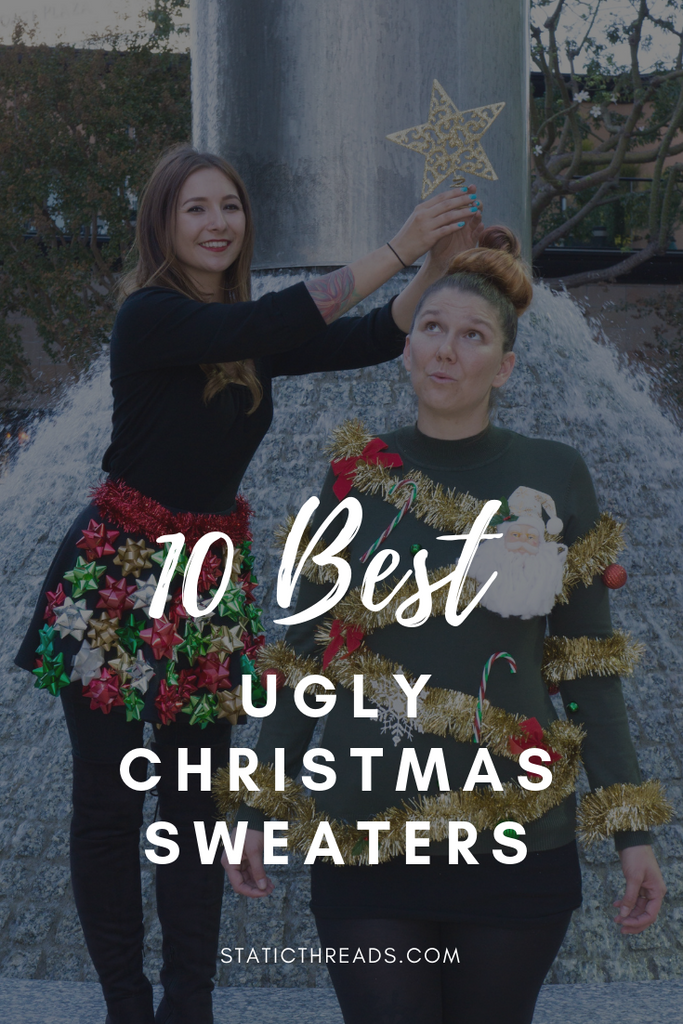 Best Ugly Christmas Sweater Ideas:
If you want to stand out at those Ugly Christmas Sweater parties check out these awesome ideas to give your competitors a run for their money! Most of these have won different contests! You will definitely not have a problem standing out! #daretostandout
Turn into a Christmas TREE sweater!
You can turn into a Christmas tree with this sweater. Just hold your hands up above your head and Voila! Add a star and you are sure to be a hit at your next ugly Christmas Sweater party. I personally made this one and I've won countless Ugly Christmas Sweater Parties.
 Best Couple Ugly Christmas Sweaters: 
Check out these sweaters that are great for couples! The woman can do the Feel the Joy and the man in the Jingle my Bells. You can make these holiday sweaters with stuff from the dollar store or check them out here. 
Order the Couples Sweaters Here - bit.ly/couplesuglysweater
420 Friendly Christmas Sweater:
If you are a 420 Friendly person here is a Get Lit Sweater with a wreath made of marijuana leaves and guess what?? Well.. they also light up! You can decide to turn it off with the attached switched inside the sweater. If it runs out you can easily take it out. It should last for 10 hours of use. This comes in both mens and women's sweaters.
Check it out here - http://bit.ly/getlitsweater
The Top Selling Christmas Bow Skirt:
Check out this original Christmas bow skirt if you would like to make those Ugly Christmas Parties a little Cute-er! I personally like to stay cute at those Ugly Christmas Parties and so I put on some cute black boots, black leggings or tights and a tight black sweater and it makes this bow skirt pop! You can order it in various bow colors, the most popular is the Christmas colors but if you'd like blue, white, silver or red, black, white, and silver we have options! 
Buy it Here! http://bit.ly/christmasbowskirt
Naughty Upside-down Snowman Sweater:
This Ugly Christmas Sweater is sure to be a hit. It is an upside down snowman with a detachable carrot for the nose. Beware because when men wear this sweater they get a little carrot happy and tend to point it towards people and start to get "proud" of their carrot. Hey I warned you. 
Order Here - http://bit.ly/upsidedownsweater
Naughty Kiss Me Under the Mistletoe Christmas Sweater:
If you are a person that dares to be a little naughty you can get the "Kiss Me Under the Mistletoe" Sweater. And well.. You can see where it points. It is a little naughty and fun! :D  Check it out -  It is available in Mens and Womens Sweaters in black! These are new and good quality sweaters. 
Order Your Custom Sweater Here - Mens - http://bit.ly/mistletoesweater
Throw Up Reindeer Sweater:
This reindeer vest can be made to order on a sweater of your choice. It features a reindeer with 3D antlers and it's throwing up a bunch of candy and Christmas ornaments. This sweater is hilarious and you are definitely going to spice up those holiday parties with this Reindeer Throw Up Sweater. :D 
BUY HERE - 
HO HO HO vest and Elf Vest:  
With this Ho Ho Ho Christmas vest you will be cute and you can even add it to the Christmas Bow skirt to make it even more gaudy. This will definitely make you stand out.  This vest comes in red or Grey. 
Order Here - 
420 Friendly Get Baked Sweater:
Check out this funny Christmas sweater with "Get Baked" on it and a Gingerbread man with a bite out of him. It's funny and can be used at any holiday event whether it's with friends or family, because who knows what "getting baked" even means at those family events?? Well I don't know about your family, but half my family would find it funny and get it, the other half might be confused or not approved. That's family, right? 
 ORDER HERE -  Christmas sweater
Christmas Dog Sweaters: 
Oh my goodness don't forget your other big part of your family, your dog is sure to love these fun Ugly Christmas Dog Sweaters. Add yours to match the whole family or just get one to keep him warm.  I make sure to make these so the garland isn't touching or bothering the dog. You can get them with fun bells that jingle or one of the favorites is the Gingerbread Man dog sweater that says Bite Me!